Step Into Christmas At Kildare Village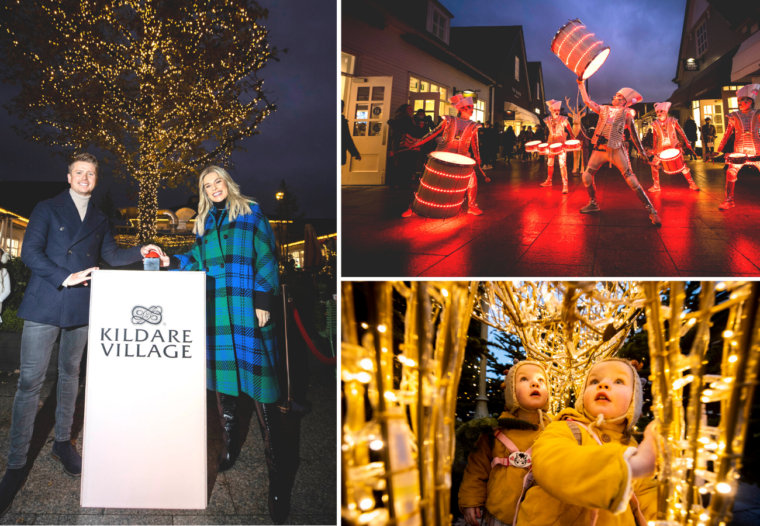 Step into the spirit of Christmas at a festive wonderland at Kildare Village this season, as the luxury shopping destination showcases its festive lights, which take guests on a magical journey through the Village. Christmas officially started at Kildare Village on Thursday 11th November as the Christmas lights were turned on by Pippa O'Connor Ormond and Brian Ormond. Pippa and Brian were joined by Spark! for a show involving drumming, dance, and captivating lights, accompanied by musicians New Brass Kings, whose interaction with the guests brought festive cheer.
With more than 100 brands, you're bound to find the perfect gift at Kildare Village, whether it's for you, a friend or a loved one. New boutique openings in the Village include adidas, Anastasia Beverly Hills, Johnstons of Elgin, and Christmas by Kilkenny Design, a special Christmas pop up. These new openings perfectly complement other recent arrivals at Kildare Village such as Zadig and Voltaire, Tory Burch, Sandro, Maje, Pinko, Neom, Sketchers, Karl Lagerfeld, Eleventy and Cocinelle.
The perfect destination for a Christmas shopping day out, Kildare Village has lots of delicious places to rest and recharge as you shop – enjoy a hot chocolate at the Lindt Chocolate Bar, take a taste of Italy in Dunne & Crescenzi, L'Officina, or try some Thai and Vietnamese food at the newly opened Saba.
Throughout the Christmas period a light show in the Village will bring animation, theatre, colour, warmth, and sound, creating a feast for the senses, while interactive Digital Mirrors will offer kids a fun and entertaining experience through innovative animation. On November 24th the Wish Digital Pop-Up Store will launch; a physical installation that comes to life through a smartphone allowing the user to discover streetwear, sportswear, and contemporary brands. The store will be accessible through a Snapcode that comes to life through a Smartphone – allowing guests to discover new brands, exciting products, and exclusive prices.
Discover a twinkling, festive world filled with song and style, gifts and joy and the very best starry-sky shopping at Kildare Village this Christmas. Find the full list of brands available here: https://www.tbvsc.com/kildare-village/en/brands/   To stay up to date on all the latest news and offerings from the Village, follow the conversation on Instagram or Facebook