Authors, Poets And Filmmakers Come Together For The 43rd Hennessy Literary Awards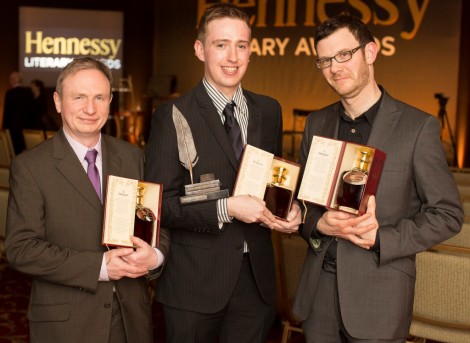 The 43rd Hennessy Literary Awards took place last Tuesday, April 8th in the beautiful surrounds of the Banking Hall in the Westin Dublin hotel. Each year, the event serves to recognize and reward emerging talented Irish authors and poets as well as those who are already carving a path for themselves or are established literary greats.
From the 18 nominees selected, three writers stood out to Irish Independent's 'Hennessy New Irish Writing' editor Ciaran Carty, Literary agent Peter Straus and poet Theo Dorgan. As pictured, these were Brendan McLoughlin, Last Breath (First Fiction), Sean Kenny, Is this Australia? (Emerging Fiction) and David Cameron, Night Singing and B&B (Emerging Poetry) with McLoughlin named the overall victor and awarded the esteemed title of Hennessy New Irish Writer of the Year.
The evening also saw Irish author, Deirdre Madden named as the 12th inductee into the Hennessy Literary Awards Hall of Fame, joining the ranks of some of the greatest literary talents of our time, including John Boyne, Dermot Healy and Hugo Hamilton to name but a few.
This year's awards also included a fresh addition with the premiere of Dog Pound, a short film by Madeline D'arcy, the 2010 Hennessy New Irish Writer. Starring Frank Kelly, Dog Pound showcases the actor at his storytelling best, as he regales his barman of an encounter with a con artist.
The short has been nominated in the Galway Film Fleadh and see it below.