Get Festival, Sea Swimming And Travel Ready With The Iconic Mcwilliam Bags Collection Of Holdalls, Shore Bags, And Totes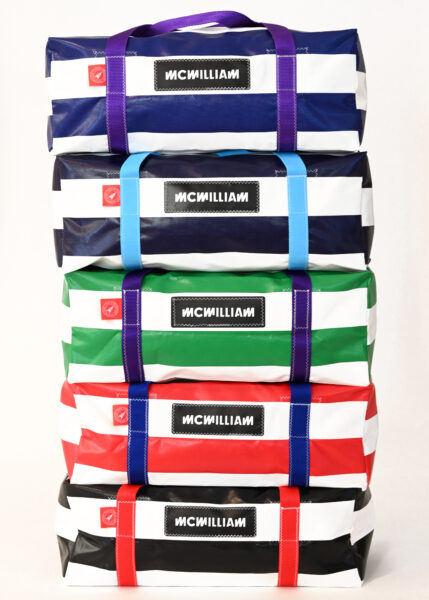 McWilliam Bags are a practical and stylish choice for the festival and summer holiday season. Originally designed as sailing bags, McWilliam Bags are handmade in Ireland for over 50 years and are available in a range of sizes including holdalls, shore bags and totes. The bags are waterproof, meaning no more soaking clothes at festivals, and the perfect holdall for the beach and sea swims. Fill with lifejackets, wetsuits or any seaside essentials and simply hose out afterwards. The trademark stripe design makes them easily spotted on the airport luggage carousel too.
Available in sizes small, medium, and large, they hold all that is wanted and all that is needed. Handmade from abrasion-resistant, durable, and fully waterproof fabric, McWilliam Bags are equipped to handle the unpredictable Irish summer. The small holdall is handy for bringing to the pool and can be loaded up with sun-creams, sunglasses, beach towels and a good holiday read!  The medium holdall is suitably sized for airplane carryon luggage, fitting a weekend's worth of essentials.  For those less inclined to travel light, the large holdall is fit for the task. The beauty of the holdall is that it fits a surprising amount, yet even when full, it can be squeezed into tight storage spaces.
Equally at home, on the beach, on board, or on a day's shopping, a McWilliam Bag is as practical as it is distinctive.  The bags are available in the signature brightly coloured stripes, as well as the recently introduced new colourways – charcoal, graphite, and sail bag.  The bold stripe design is the perfect pop of colour, sure to embody those summer and festival vibes. The bags are customisable, an additional feature that makes travel easier and smarter. Ensure each bag is recognisable by adding embroidery and choosing a specific strap colour so that the bag can't be missed.
Handmade in their loft in Crosshaven Co. Cork, since 1971, many of the bags remain intact and in use after 30 years with the bag quickly becoming a companion rather than luggage.  This collection is available now on mcwilliambags.com.  Prices start from €60.00.  Keep up to date on all the latest news and announcements on Instagram and Facebook