The Windy City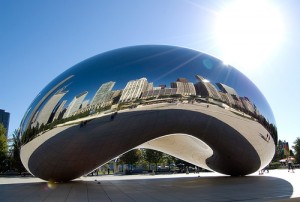 A trip to Chicago last week was a welcome break from Irish negativity. Americans are chirpier, more upbeat and all about the positive.
It really lifts your mood when you are repeatedly told to have a great day and given excellent customer service. The exchange rate makes it all very affordable and there is value everywhere – Target is a particular favourite for over the top Hallowe'en bits and low cost designer collaborations (on our visit a great collection from Anna Sui).
The Obama factor has given Chicago the self confidence to embrace its Second City status – The Art Institute of Chicago, the Architectural Foundation river tour and the Millennium Park showcase the city to its best. Oak Park is the suburb that iconic architect Frank Lloyd Wright made his home, where he designed and built 25 structures and perfected his organic and Prairie style of architecture. He is almost as interesting for his womanizing ways.
First lady Michelle Obama has really put Chicago on the fashion map – it is now known as the Milan of the Midwest.
The most prominent (only) Irish brand in evidence was Orla Kiely – Americans have embraced her prints and we spotted them in department store Nordstrom and in no less than nine boutiques in bohemian Bucktown.
The culinary highlight was a meal in Publican , all plates are shared on vintage mismatched plates on communal tables. Grey Goose is the vodka of choice for the scrummiest martinis with the swooniest of views on the 95th floor of the John Hancock Centre.
Oh, and the first day we arrived Oprah happened to kick off her new season with the biggest flash mob in the world… check it out here
There is more to the US than the two coasts – check out the Midwest, you will not be disappointed.
2 Comments on The Windy City
Leave a Reply