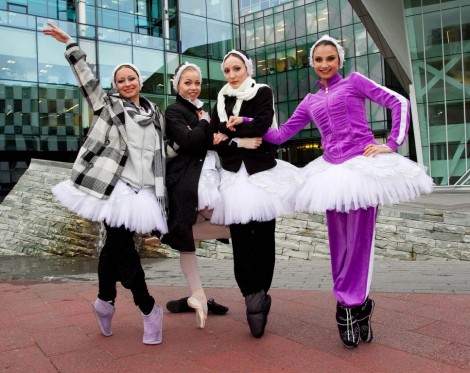 Last Friday we were delighted to welcome four members of The Russian State Ballet to Dublin, where they performed the beautiful 'Dance of The Cignets' from Swan Lake live on The Late Late Show. Despite a long flight and some jetlag, Elena, Irina, Nathalia and Yulia were in great spirits at the Bord Gais Energy Theatre where we kicked off the day with a photocall. Our photographer Paul Sherwood managed to get some really great shots before we headed off to RTE for rehearsals.
After an extensive warm up, the girls made their way to the set for camera. Despite the language barrier, their friendly personalities and professionalism shone through and they produced a flawless rehearsal, leaving everyone on set excited about the performance. After rehearsal, the ballerinas joined other guests in the green room including Amanda Byram, Jerry Springer and Gok Wan.
At 11.20pm, it was finally time for the dancers to take to the stage. Following a short intro from Ryan Tubridy, the dancers burst into life. Check it out on the RTÉ Player at 1:31:11.
The show, which opens at the Bord Gáis Energy Theatre on Wednesday, 21st March, promises to be a real treat. The Russian State Ballet, led by Nina Kaptsova, the captivating star of The Bolshoi, and joined for the first time by Evgeny Ivenchenko, the Premier Dancer of The Mariinsky Ballet and Honoured Artist of Russia, will be accompanied by The RTÉ National Symphony Orchestra, playing the most beautiful music from Tchaikovsky and Prokofiev. With some of the world's finest dancers, dazzling costumes and sumptuous sets and scenery, these shows promise to be a truly unforgettable experience for all the family.
For more information and ticket prices, please visit www.bordgaisenergytheatre.ie