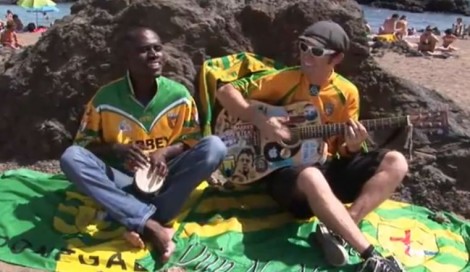 By our Donegal Rose, Mary Crawford.
All roads lead to Croker this weekend as Mayo and Donegal battle it out for All-Ireland glory. It's 20 years since I stood in the Canal End watching Donegal win the county's first All-Ireland against Dublin and, like a lot of Donegal fans, I didn't think it would be 20 years before we would be back. But, thanks to a transformation brought about by Jim McGuinness, Donegal are flying high again. After our victory over Cork, the media pundits called us virtually unbeatable and now Mayo are the underdogs, (a position I suspect Jim McGuiness would much rather be in going into Sunday's match).
Expectations are running high in both counties – it's a sea of green and gold at home and sources tell me Mayo is decked out in a similar fashion. As the excitement mounts, there's been some great stories of fans attempting to outdo each other in terms of celebrations. Just this week, a crack squad of Mayo supporters scaled Donegal's highest mountain and planted their county's flag on the summit in retaliation for a similar stunt by Donegal politician, Joe McHugh.
As the scramble for tickets continues, one thing is certain, Sunday's game promises to be a great match. Hopefully, come Monday, we'll all be humming Jimmy's Winning Matches!