Elevate PR – Friday Round Up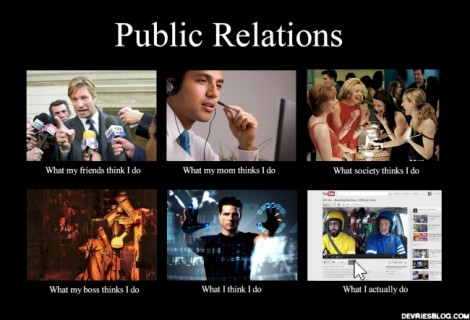 The internet was taken over this weekend with 'What I Actually Do' memes.. We've included the one for the PR industry above!
After last weekend's 6 Nations rugby disaster the Ireland v France game has been rescheduled for 4pm on Sunday, 4th March. This means the team will have a good break before their game against Italy in the Aviva Saturday week.
Today FM had another successful Shave or Dye world record attempt with the most heads being dyed in 24 hours – It's their 3rd successful Guinness world record attempt.
News of Whitney Houston's death broke on Twitter in the early hours of last Sunday morning. Her funeral is being streamed online tomorrow and her co-star from The Bodyguard, Kevin Costner will speak at the service with Stevie Wonder and Aretha Franklin singing at it.
Sonia O'Sullivan will be the first person to bring the Olympic torch through Dublin with Michael Carruth and Wayne McCullough will pass the torch over the border.
Leave a Reply