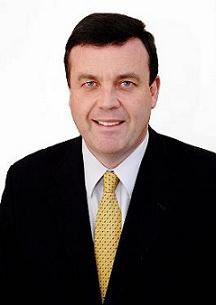 This morning's "Confidence in Media?" session in The Shelbourne Hotel brought together a range of speakers to discuss the impact of media reporting on our current economic woes. Hosted by economist and broadcaster Marc Coleman, in conjunction with Confidence in Action, the session kicked off with a talk by businessman Denis O'Brien. He called for balance in reporting good and bad news in equal measure and noted the impact of new media, referencing the online frenzy that followed the Taoiseach's interview on Morning Ireland. He claimed this incident demonstrated exactly how much Ireland is being scrutinized by international media at the moment and finished by saying that a lack of consumer confidence is the 'absolute missing ingredient' in helping the country get back on its feet.
John Corrigan of the NTMA discussed this week's bond sale and claimed our banking and fiscal problems are very manageable. He criticised the measurement of statistics in some media and echoed Denis O'Brien's call for balanced reporting, as opposed to scare mongering. IBEC Director General Danny McCoy urged the government to communicate clearly and concisely with the general public about what exactly needs to be done. He said this should happen sooner rather than later, as Ireland needs to send a positive message to international investors to show that we can manage our own affairs. In relation to the media, he criticised the lack of clarity between reporting the facts and commentary, saying that loose talk makes for high bargaining costs.
Group Business Editor with the Irish Independent Brendan Keenan claimed that the onset of new media has changed a journalist's job from telling us what happened yesterday to now telling us what will happen tomorrow. He stressed the impossible nature of this task and said that as a country we all must stick to the present. He feels the debate has gone off in the wrong direction and should be focusing more on our health and education system, as opposed to events of the past or what may happen in the future. Charlie Fell, Irish Times, spoke on the importance of remaining in the euro, claiming that Europe was a primary factor in our success to date and would continue to play a key role in our success going forward.
Minister for Finance Brian Lenihan TD, started his speech by demonstrating how Ireland's economy had rapidly stabilized, adding that second-quarter gross national product, which excludes profits from multinationals based here, fell an unadjusted 4.1% on the year, compared with an 11.4% annual decline in the corresponding period last year. "There are very, very few economies in economic history that have moved from a 11% fall to a position of stabilization in a period of one year," Lenihan said. "This is a remarkable turnaround and it is important that we bring it to the attention of potential investors." He also referenced the importance of good journalism and the need for fair and accurate reporting. He said he doesn't subscribe to criticism that the media doesn't report enough good news, but warned against sensationalism and advised balanced reporting. He said journalists need to be aware of the self-fulfilling nature of doomsday scenarios and that media reports here are beamed around the world, often influencing the decisions of foreign investors and multinationals. He also advocated more debate between economists, whom he said can be very critical of each other in private, but rarely go head to head with each other in public.
NUJ Secretary Seamus Dooley referenced the importance of investing in good journalism – he noted how over-stretched a lot of media were and criticised the over-dependence on property and recruitment advertising during the boom. Padraig O'Ceide from Aer Arann spoke very candidly about how, post 911, an inaccurate article in a national newspaper almost cost him his business. He contrasted this with the current reporting around the company's examinership, which he felt had been accurate and fair and, as a result, had a much less negative impact. Other speakers included Senator Fergal Quinn, TV3 Chief Executive David McRedmond, RTE Business Editor David Murphy, Aileen O'Toole, Managing Director of AMAS (and formerly of the Sunday Business Post) and Austin Hughes, KBC Bank.
All in all, it was a great session which gave us lots of food for thought.