Guest post from stylist Linda Conway.
Trends for this S/S12 are varied and many. Catwalks from London to New York and even Paris were filled with colour pattern and texture, paving the way for some serious fashion fun this year. Whether you are one to jump straight on the trend train or even if you are one to shy away, this season there really is something for everyone! From punk to vivid colour, soft neutrals to flowing florals or even luxurious laces and monochrome magnificence, prepare yourself for a fashion phenomenon!
Lace:
Lace is a big trend for this season. Designers have added lace to everyday wear such as blouses, skirts, and dresses and also to accessories and shoes. It has been introduced in a variety of styles, whether it is head colour pop lace as seen at Miu Miu and Valentino or the more paired back versions at Louis Vuitton and Erdem. The lace on this dress reminds me of a beautiful French lace collar on a blouse my grandmother used to have. My favourite feature is the lengthened sleeve and gathered waistline, plus the fact that it has no lining leaves room to wear it a tonne of different ways!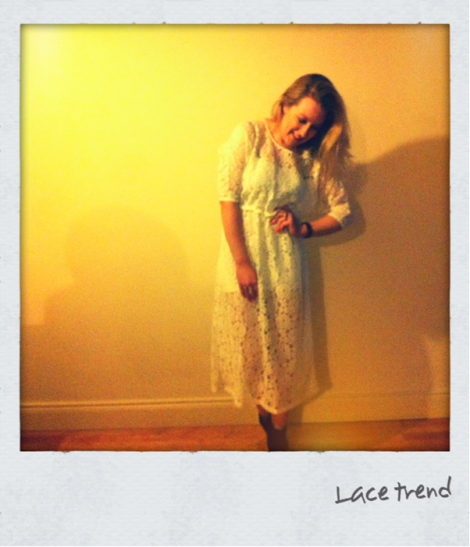 Orange:
The future is bright and the future is orange. That's right, if there is one colour almost every designer gave a nod to this season it was orange. In many different hues and tones this is the shade of the season. My favourites included Derek Lam and Alberta Ferretti, from fiery tangerines to burnt oranges. This dress is going to be a summer staple of mine. Plus the dipped hemline means another trend box is ticked. From a BBQ to a wedding I think this is the kind of dress that will take me from one occasion to the next!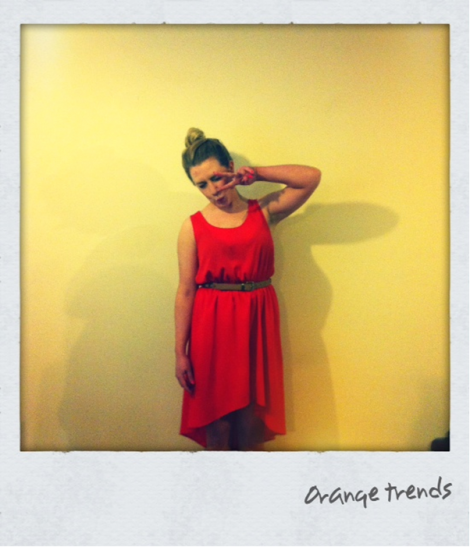 Irish Design:
I'm an avid follower of Irish Design and this S/S12 Irish Designers have created some incredibly beautiful collections. I hope to purchase a lot more pieces from designers such as Emma Manley, Sinead Doyle and Natalie B Coleman to name but a few. This is by far my favourite item in my closet. It's a Manley by Emma Manley. It's called "The Sue" dress and it is the most luxurious piece of clothing I have ever had the pleasure of wearing. I'm looking forward to adding more pieces like this bad boy to my wardrobe this season.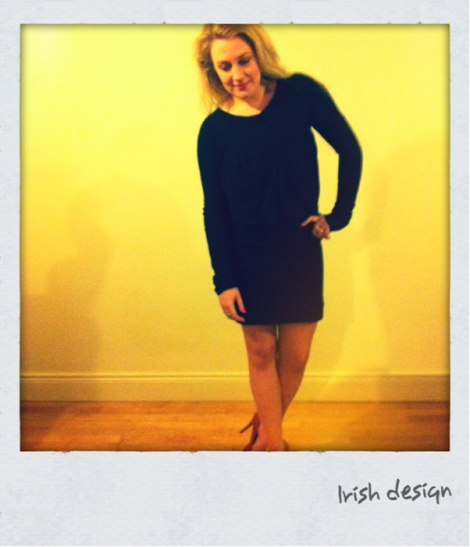 Athletic:
Sporty chic has sprinted to the forefront of many designers collections this season. From loose tailoring to the more obvious pieces this is the trend that will put a spring in your fashion step. Look to Marc Jacobs and Stella McCartney for some serious sporty inspiration. I nabbed these trousers a while back and I adore them. Ok, to be fair without a pair of heels it may appear that I am ready for the gym but I think the zip details at the ankle take it a step away from boring sweat pants and give them a leap into catwalk inspired trousers. I'm a sucker from studs, and a bit of dip-dye never hurt anyone so this jumper will be my go to to add edge to outfits this season.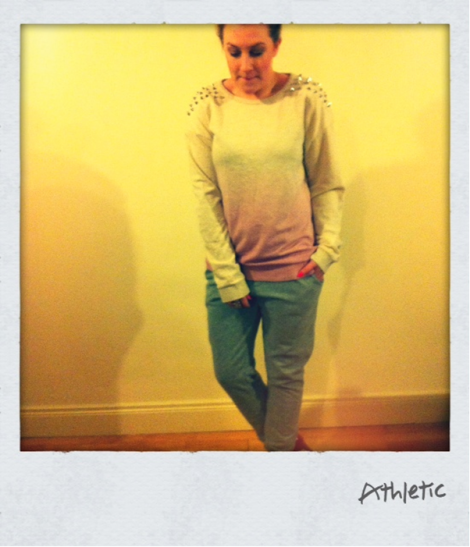 Peplum:
Giorgio Armani, Zac Posen, Jason Wu and Celine all celebrated the female silhouette this S/S12 with the form of the Peplum. Soft fresh and feminine, the peplum introduces curves and hides a multitude of sins. From soft to sharp forms it embraces the female figure. I'm teaming this ice white peplum dress with a boucle jacket this season. The trend is splashed across the highstreet so avoid meeting bumping into a replica as you stroll down the street add some personality with accessories. I love this jacket because the zips and texture add a different dimension to the look.
Happy S/S12 shopping everyone!
Linda x
Linda has recently launched her new website and you can also find her on Twitter!